Quick Quote - Click Here
Airline Travel Insurance – Review
Airline Travel Insurance is one of the most profitable lines of business for US airlines. You will have noticed that almost every time you book a flight, there is an offer to buy Airline Travel Insurance.
Have you ever wondered whether good value for money was being offered, or what the alternatives were?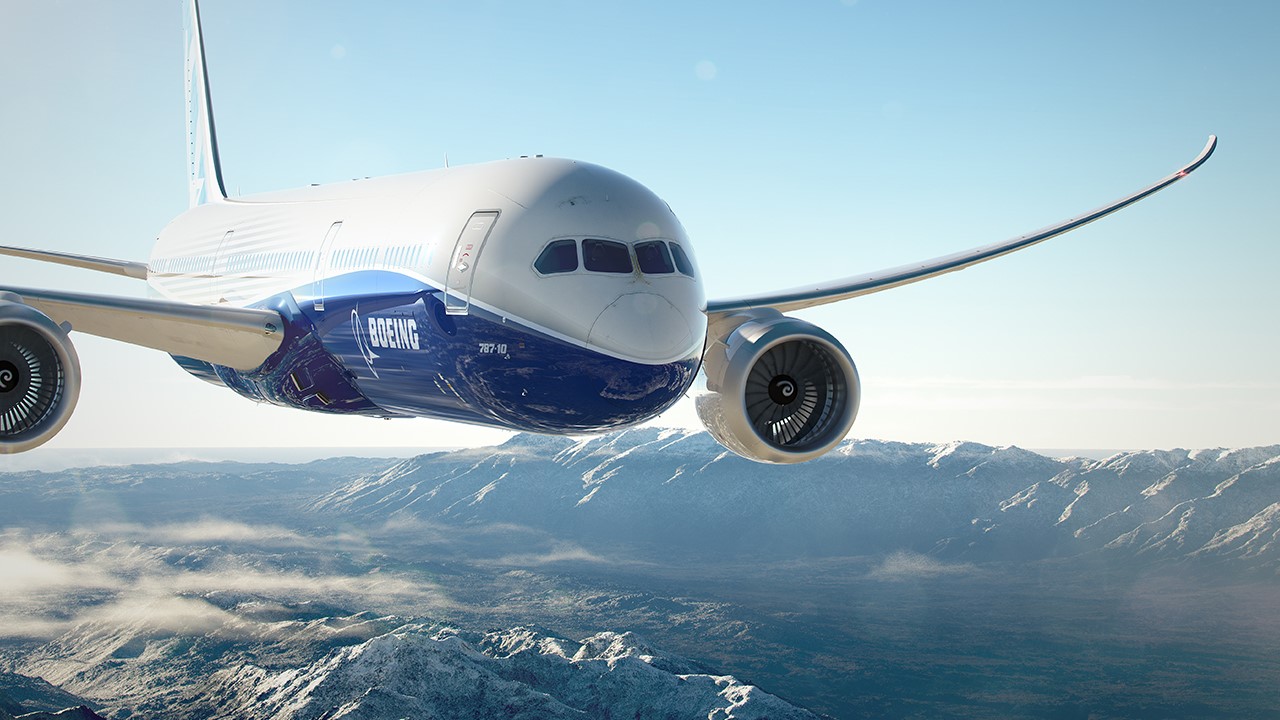 Rest assured, there is time to check out much better plans than the Airline Travel Insurance that is offered.
You can buy your trip insurance any time up to the day before you depart, although we would recommend that you buy it sooner, of course.
But, this does mean that you can buy your Trip Insurance policy from one of the many specialist Travel Insurance Carriers in the USA.
American, Delta, and United all offer terrible Airline Travel insurance. There's the same problem with Alaska and JetBlue.
There seems to be a universal desire from airlines to sell what looks like cheap Airline Travel Insurance. The problem comes when we look into the cover levels and realize that the benefits are really terrible.
Then, when we run quotes and compare with independent Travel Insurance carriers, we can see how expensive Airline Travel Insurance is when you buy it from an airline site.
So, bottom line – you may want to protect your airline flights, and subsequent travel plans. But you probably don't want to do it through the airline website.
Expedia Airline Insurance
Expedia is another firm that sells Airline Travel Insurance. Somehow they do an even worse job than the airlines. We have yet to see a Trip Insurance policy as poor as that which Expedia presents.
The Expedia Travel Insurance benefits would leave a traveler without critical levels of protection on a trip, yet will have cost up to three times as much as the regular market price for a better Trip Protection Plan.
Southwest Airlines Travel Insurance – Where is it?
Southwest always seems to do things differently. Those of us who fly with Southwest may recall that it doesn't actually sell Airline Travel Insurance. Think about that for a moment – this is a huge profit generator for most airlines, and Southwest doesn't even bother with it.
When you consider the booking flexibility that Southwest offers in its fare structure, it sort of makes sense. It is possible to get a refund or credit on almost every seat you would ever buy with Southwest. So, most people wouldn't even think about taking Airline Travel Insurance with that airline.
The only problem comes when a Southwest customer is heading out of the USA. Southwest now has a growing route network into the Caribbean and Mexico. The US State Department and CDC both strongly advise that US travelers equip themselves with decent Travel Medical Insurance whenever they travel overseas.
Southwest does not remind its customers of this fact when they book flights out of the USA.
Our only criticism of Southwest is that it could offer better advice to travelers about the importance of Travel Medical cover.
If in doubt – $100k of Travel Medical cover when leaving the USA, and $100k of Medical Evacuation Insurance.
International Airlines Travel Insurance
We see a similar reluctance with international airlines and the sale of Airline Travel Insurance. British Airways spends a great deal of effort in persuading its customers in the UK to buy travel insurance. Yet, if buying a flight with BA out of the USA, the airline does not even mention it. It does seem strange that there is not commonality in service philosophy from the same airline. Clearly, if you are a US citizen or resident, and are about to embark on a foreign trip, you really should think about buying Travel Protection cover of some sort.
Airline Travel Insurance Review
We will cover the following areas:
Basic Cancellation Cover
Cancel for Work Reasons Coverage
Cancel for Any Reason Protection
Travel Health Insurance
Medical Evacuation
Flight Insurance Options
Recommended Coverage Levels
AardvarkCompare
Remember, there is no immediate urgency to buy Airline Travel Insurance. The airline will persuade you on their check-out screen that it is a now-or-never option. This is just nonsense. Buy your policy swiftly, of course. But take the time to consider the different Trip Insurance policies available to you.
Airline Travel Insurance – Cancellation Protection
Before purchasing Airline Travel Insurance it is worth reviewing the key benefits.
Trip Cancellation Protection
Travel Medical Health Insurance
Medical Evacuation Protection
Basic Trip Cancellation Protection
Basic Airline Travel Cancellation Protection is built in to every policy. However, it is important to remember that the list of valid reasons to be able to cancel and receive compensation are actually quite limited.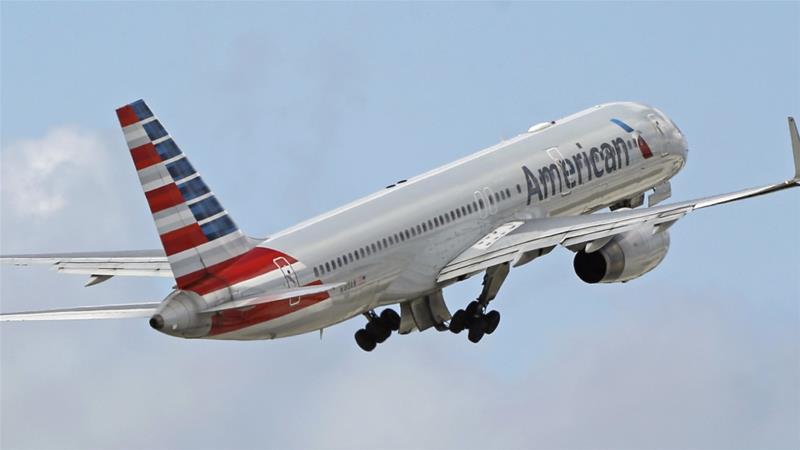 You will get a 100% refund if the following occurs:
Accident, illness, or death of you, a traveling partner, business partner, or family member
Jury duty
Legal appearance
Traffic accident en route to airport
Death or hospitalization of your host at your travel destination
Weather
Job loss
Bankruptcy of your travel provider
The 100% refund may seem generous, but the insurer is happy to offer this, because these sorts of cancellation actually happen quite rarely.
However, this is all the cancellation protection that a traveler is likely to receive if they purchase Airline Travel Insurance directly from the airline. The airlines have had policies built specifically for them that have less trip protection than regular travel insurance policies.
Certainly, those of us who would want to have any form of Work Cancellation Protection should look for a more comprehensive form of Travel Cover.
Cancel for Work Reasons Airline Travel Insurance
Most of us work for an employer who will grant us approved vacation – then we book our holiday. The problem comes when we have that work-approved vacation cancelled. Ideally, we would have Airline Travel Insurance that protected us in this eventuality.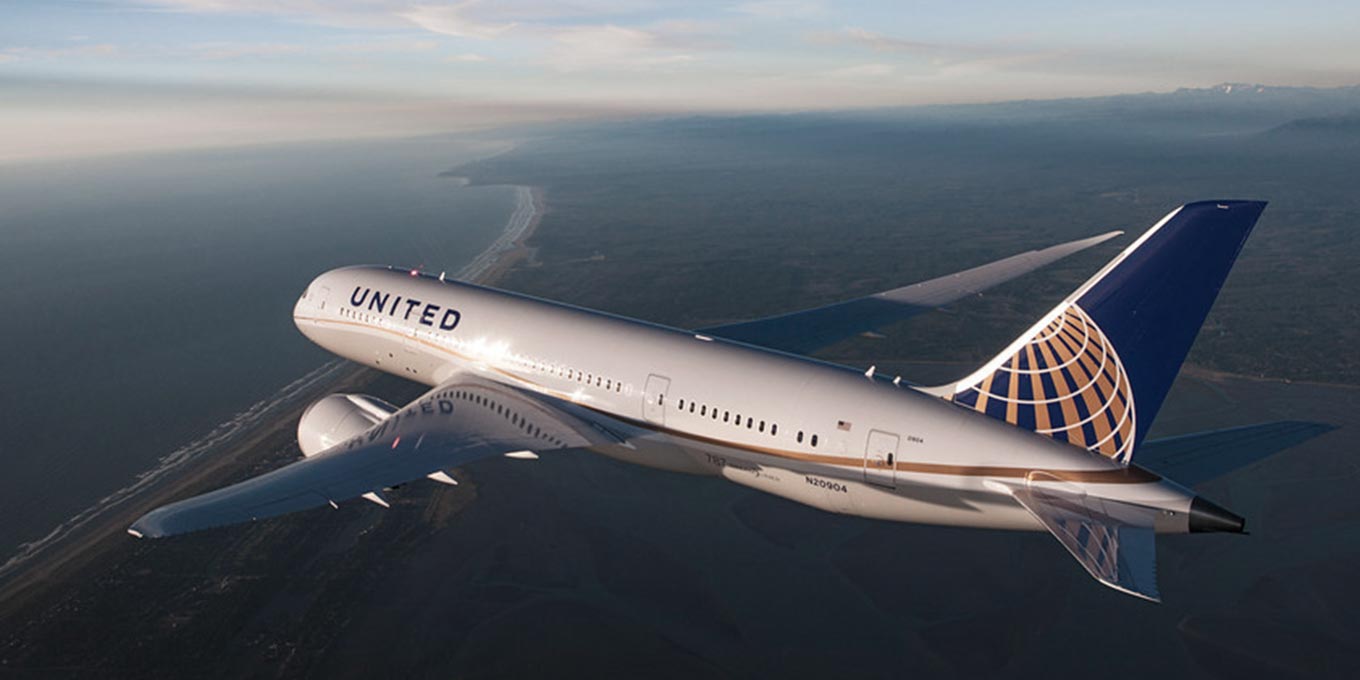 Such cover does exist – it is called 'Cancel for Work Reasons' Travel Insurance. Perhaps unsurprisingly, Travel Insurance sold by an airline does not include this protection.
This is a shame, because we certainly welcome the protection that it offers.
There is one level of Travel Cancellation Protection that exists with even more cover than Cancel for Work Reasons. It is known as Cancel for Any Reason travel insurance.
Cancel for Any Reason Airline Insurance
Ordinarily, if you cancel your flight with the airline, there will be no refund at all. The airline would prefer that you buy a fully Refundable ticket, should you need booking flexibility.
But, these tickets can cost four times as much as a throwaway Non-Refundable ticket.
That's where 'Cancel for Any Reason' Airline Travel Insurance comes in. It allows you to get 75% of your costs back if you cancel your flight. So, instead of buying a $1,600 Refundable ticket, just spend $400 on a Non-Refundable, and then add Cancel for Any Reason cover. It is one of the cleverest airline ticket hacks that we know of.
Airline Travel Insurance – Health Cover
When traveling within the USA most of us would not really think about the benefits of incorporating health cover within our Airline Travel Insurance.
When you buy cover through the airline, do not expect to see any medical cover for domestic flights.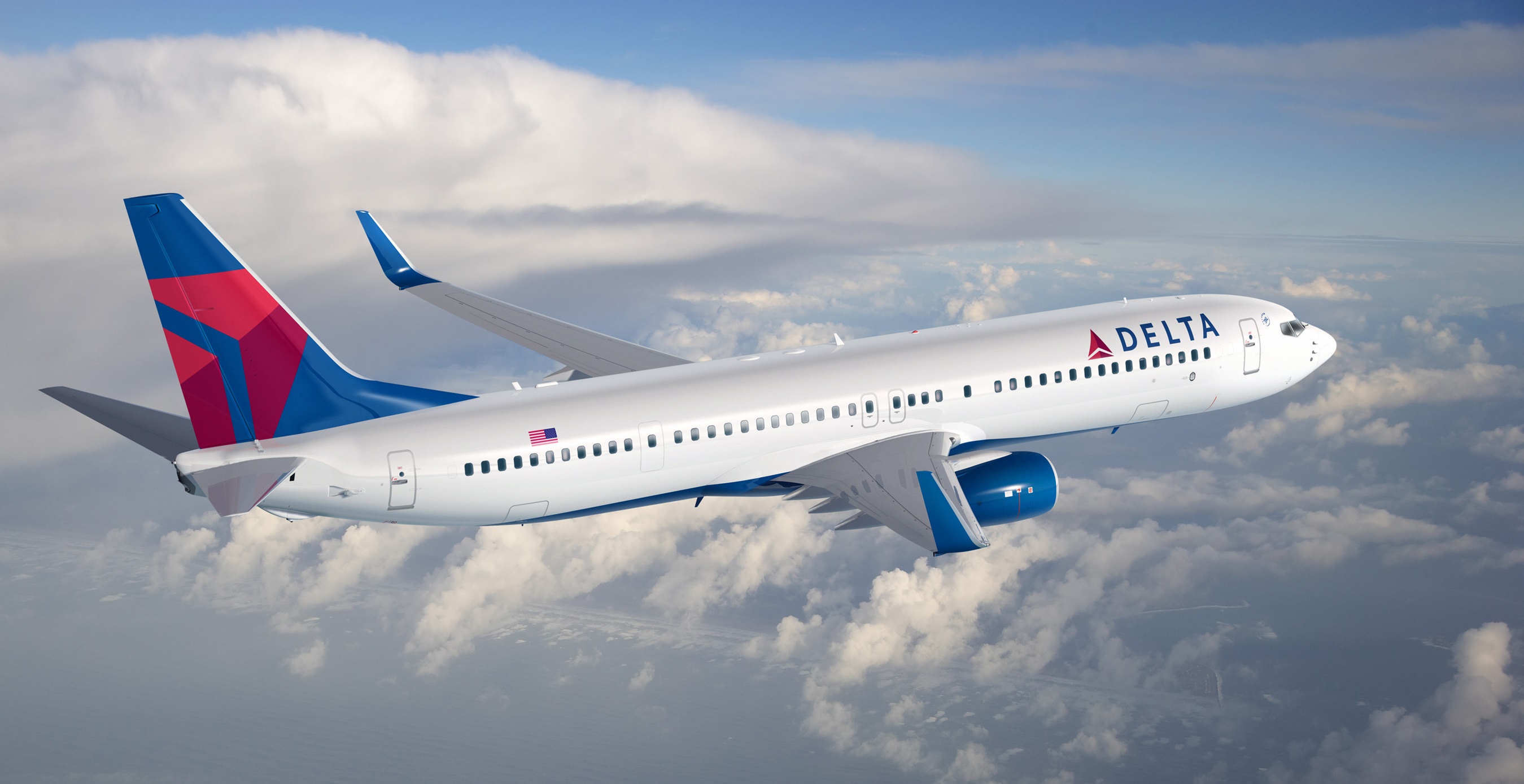 However, when you buy Airline Travel Insurance in the wider market you will notice that even the cheapest Trip Insurance for a domestic flight will have some medical cover.
It can be really helpful. Now you will not need to worry about deductibles and co-pays – your travel medical cover within the travel policy will support you.
When traveling outside the USA we certainly need health cover. We rarely see a home health insurance that supports a traveler outside the US.
Certainly, Medicare does not offer any help. Even those with Medigap don't really get much in the way of support.
The best Medigap policies have a lifetime limit of $50k and a 20% co-pay.
No, when you travel outside the USA, you have to have health insurance. Even if you are traveling to a country with subsidized public health care, that won't help you. Two popular destinations – Mexico and Canada – have these public systems. But, they are not available to travelers. You will be subject to the cost structure of international private hospitals. We see daily rates of $3k-$4k. So, we always recommend that any Airline Travel Insurance used for international travel include at least $100k of Medical Cover. Ideally, this would be Primary cover so that the insurer can take over direct billing with the hospital. This means a lot less financial headaches, an easier claim process, and no out-of-pocket problems.
Airline Travel Insurance – Medical Evacuation
Just as we can get involved in serious accidents at home, we can experience them whilst overseas. The job of the Travel Insurer should be to get you to the best medical facility to treat you.
Often we travel to parts of the world without the same quality of care that we enjoy in the USA.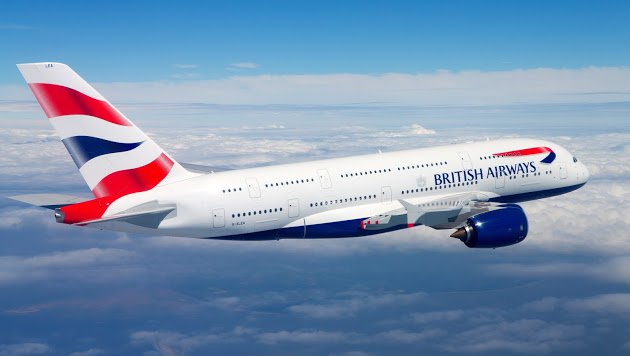 If we have strong Medical Evacuation cover within our Airline Travel Insurance, we can be treated in the best hospital for our condition. The very least we need to see, in terms of cover, is $100k of Medical Evacuation benefit. Even that is insufficient if we are traveling to a more remote area – $250k is better. Private jets are expensive, and those specially equipped to transport patients cost even more. A team of medical staff on board can get you to a place of safety and help you in your return to health.
Again, the cover that an airline will sell is almost certainly insufficient. No one should have to think about re-mortgaging a house to get a loved one home, just because the cover on an airline policy was weak.
Make sure that this critical level of cover is correct – it really is not expensive trip insurance to buy.
Airline Travel Insurance – Wider US Travel Insurance Market
Travel Insurance is a $3bn annual market in the USA. Some of the world's leading Travel Protection Carriers are based here. They work hard to develop innovative Travel Policies, and compete on cover, cost, and service. When you are presented with Airline Travel Insurance upon check-out from Delta, United, or American, you could be forgiven for thinking that there was no other choice.
This simply is not true. Please, take a minute to compare rates from the best travel insurance carriers in the country.
Primary or Secondary Medical Cover
There is slim to zero chance that the type of Travel Health Insurance cover will be highlighted when you buy your airline policy. We make a point of highlighting whether a Travel Protection Plan has Primary or Secondary Insurance.
Why does this matter? Well, from our point of view, although the dollar amounts of insurance are very important, the hassle associated with claiming is also high on the list too.
With Primary Cover, the Travel Insurance Carrier knows that they are the only ones responsible for costs associated with a claim. As such, they are happy to set up direct billing with a health care facility. Much less stress and hassle for you – no out-of-pocket problems, and a much simpler claims process.
Unless there is a really significant cost difference, take Primary cover.
AardvarkCompare – Travel Insurance Marketplace
AardvarkCompare is the World's leading Travel Insurance Marketplace. We bring together the leading travel insurers, so that you can see rates of insurance from all of them.
Every Travel Insurance Carrier we present to you has been rated at least an 'A' by A.M. Best.
The Travel Insurance plans that you see are presented with an absolute price guarantee. You will not find the same Airline Travel Insurance Plan, or any other Travel Insurance we offer, at a lower rate.
It's just not possible to discount Travel Insurance in the USA. Strict Anti-Discrimination law protects you, the traveler, from price discrimination.
We only ever need one minute of your time, in order to find the best Travel Insurance plans we have available. The cheapest Travel Insurance that we have will always be visible first – our job is to get you best value for money.
We think that we have created a tool to find the cheapest Airline Travel Insurance, and the best levels of cover. Our tool is intuitive, and we have staff on hand to help, day or night.
Safe travels.
Recent AardvarkCompare Travel Insurance Customer Reviews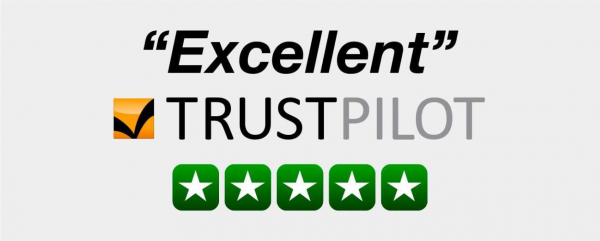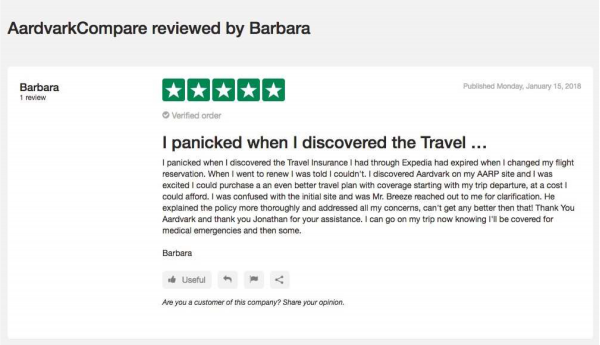 I Panicked When I Discovered
I panicked when I discovered the Travel Insurance I had through Expedia had expired when I changed my flight reservation.
When I went to renew I was told I couldn't.
I discovered Aardvark on my AARP site and I was excited I could purchase an even better travel plan with cover starting with my trip departure, at a cost I could afford.
I was confused with the initial site and Mr. Breeze reached out to me for clarification.
He explained the policy more thoroughly and addressed all my concerns, can't get any better than that!
Thank You Aardvark and thank you Jonathan for your assistance.
I can go on my trip now knowing I'll be covered for medical emergencies and then some. 
Barbara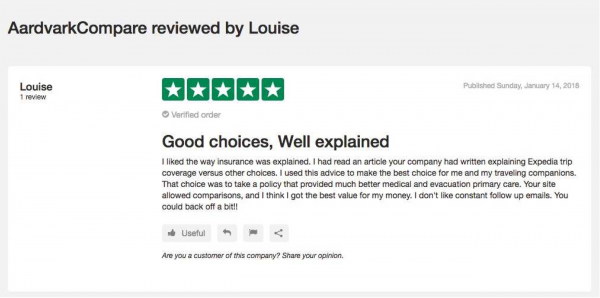 Good Choices, Well Explained
I liked the way insurance was explained. I had read an article your company had written explaining Expedia trip cover versus other choices.
I used this advice to make the best choice for me and my traveling companions. That choice was to take a policy that provided much better medical and evacuation primary care.
Your site allowed comparisons, and I think I got the best value for my money. I don't like constant follow up emails, though. You could back off a bit!!
Louise
---