Quick Quote - Click Here
Best Flight Insurance
What is the Best Flight Insurance? Almost certainly not the one that the travel website or airline is trying to sell you.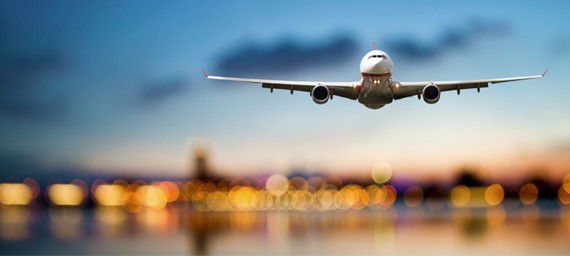 There are much better options available from specialist trip insurance companies.
Expedia Flight Insurance
In general, the policy that you will be offered at check-out will be overpriced, and with limited cover. The worst that we have seen, by some margin, is the flight insurance offered by Expedia.
We aren't really sure how they have managed to put together a trip insurance that is so expensive, with so little cover benefits. Expedia's Flight Total Protection Plan is provided by AIG Travel Guard.
We are a huge fan of AIG Travel, and offer their Basic, Silver, Gold and Platinum Travel Insurance Plans, here at AardvarkCompare.
But, Expedia's Flight Protection Plan is not travel insurance.
Here are the domestic benefit levels:
Expedia International Flight Insurance
Maximum Limit Per Person
Trip Cancellation – trip cost up to a maximum of $100,000
Trip Interruption – up to 100% of trip cost up to a maximum of $100,000
Baggage & Personal Effects – $1,000 accident sickness
Medical Expense – $5,000
Emergency Evacuation – $15,000
Repatriation of Remains – $15,000
Flight Guard® – $50,000
Note that the Travel Medical Insurance cover is only $5k.
This is such weak cover as to be almost useless, other than for basic cancellation or interruption.
Expedia Flight Cancellation Reimbursement
Because Expedia relies on an AIG Travel Policy, at least the language is clear in terms of when reimbursement will take place due to trip cancellation or interruption.
Here is the policy language:
The Company will reimburse the Insured a benefit, up to the Maximum Limit shown in the Schedule or Declarations Page if an Insured cancels his/her Trip or is unable to continue on his/her Trip due to any of the following Unforeseen events:
(a) Sickness, Injury or death of an Insured, Family Member, Traveling Companion or Business Partner;
(1) Sickness or Injury of an Insured, Traveling Companion or Family Member traveling with the Insured must be so disabling as to reasonably cause a Trip to be canceled or interrupted or which results in medically imposed restrictions as certified by a Physician at the time of Loss preventing your continued participation in the Trip;
(2) Sickness or Injury of a Family Member not traveling with the Insured;
(3) Sickness or Injury of the Business Partner must be so disabling as to reasonably cause the Insured to cancel or interrupt the Trip to assume daily management of the business. Such disability must be certified by a Physician.
Reimbursement will also take place because of an uninhabitable primary residence. Jury duty is covered, as is involuntary termination from a place of work. Finally, a road accident en route to destination will trigger reimbursement as well.
So, this is pretty good cancellation cover. But, we need more than this from our travel insurance.
We always want to see strong medical and evacuation cover, and the levels offered by Expedia are terribly weak.
Expedia International Travel Medical Insurance
Expedia offers $5k of travel medical cover. That's it.
Now, we recommend that the minimum of Travel Medical Insurance that a customer take is $100k.
Expedia leave you $95k short if you buy flight insurance from them.
Please, do not take such an inadequate level of cover if you travel outside the USA.
With medical evacuation from Expedia, we see the same problem – totally inadequate cover.
We ask that our travelers take at least $100k of medical evacuation cover when they buy flight insurance, if they are traveling close to an international center.
If traveling more remotely, then their flight insurance quote should offer at least $250k of medical evacuation benefit.
Expedia offers $15k.
There just is not sufficient cover to put someone on a jet with a medical team and get them to safety.
$15k will leave a traveler with unimaginable financial bills.
Please do not ever rely upon Expedia for International Flight Insurance unless you have substantial additional insurances.
Expedia Domestic Flight Insurance
So, as bad as Expedia International Flight Insurance is, at least it has a little medical and evacuation cover.
Not a lot, of course, but better than nothing.
Expedia offers the AIG Flight Cancellation Plan for domestic travel.
Now, most people would assume that a travel protection plan (which is what Expedia calls it) would support you in time of trouble.
Here is what Expedia has to say as to the reasons why you should buy Expedia Travel Insurance:
3 reasons you might need travel protection: 
Your ticket is non-refundable and you're too sick to travel
You get injured and can't make your flight home
Your traveling companion has a covered medical emergency and can't travel
Every phrase refers to sickness or injury, so perhaps it is fair to assume that there is at least some medical cover in this Expedia Flight Insurance.
Here are the cover levels:
Expedia Domestic Flight Insurance
Maximum Limit Per Person
Trip Cancellation – trip cost up to a maximum of $100,000
Trip Interruption – up to 100% of trip cost up to a maximum of $100,000
The sharp-eyed reader will note that there is:
No Medical Cover
No Baggage Cover
No Emergency Evacuation Cover
Expedia Flight Insurance for domestic travel covers almost nothing.
This may be the first travel insurance policy we have seen that has no medical cover, and certainly the only one we can recall without baggage cover.
No baggage cover for a flight insurance?
You would think it was a joke if it were not so sad.
All we can say is this.
There are so many better cheap flight insurance plans to buy.
All you need do is run a quick search in order to find something, anything, better than Expedia Flight Insurance.
Airline Flight Insurance
What about the airlines? Are they not going to sell the best flight insurance to their customers?
Sadly, no. A shame, because they could easily do so.
The airline priority seems to be to sell the most expensive seat possible to a customer – a fully refundable ticket. A good example is Delta, but all airlines in the US seem to be using the same type of trip insurance plan, so almost all of them are doing a poor job for their customers.
The sensible choice for a customer would be to buy a non-refundable ticket, but somehow be able to get most or all of the money back in the event of a cancellation.
It is no surprise that the airlines do not want their customers to be able to do this. So, the best flight insurance that an airline can sell you is actually pretty useless if you need to cancel for non-emergency reasons.
Travel Insurance Specialists
Our recommendation would be to look for a more comprehensive travel insurance policy that will include 'Cancel for Work Reason' insurance and also 'Cancel for Any Reason'. Buy it from one of the many Travel Insurance Carriers who specialize in this policy.
At AardvarkCompare we suggest that when you travel you should consider travel insurance. This will cover your flight. You can get an anonymous quote in seconds, and compare dozens of the top travel plans from many of the largest US travel insurers. You should save time and money finding the right travel plan for your needs.
Compare the pricing you get from the entire market, with the price on offer from the airline. Then check the level of cover. We would be surprised if those two minutes at AardvarkCompare did not give you significantly better value for money. You will get more cover at a lower price.
Airline Ticket Hack
Earlier in this article we talked about using flight insurance to effectively turn a non-refundable ticket into one with refundable benefits.
We have called this the Airline Ticket Hack. It is worth a quick read to see how simple this is.
This is our version of the Best Flight Insurance – one that can turn a $400 ticket into something that the airline values at well over $1,000.
Price Certainty
What many people do not know is that they won't find the same flight insurance plans available at a better price – all down to price certainty that is guaranteed as a result of anti-discriminatory law in the US.
Travel Insurance Comparison – Will I Pay More Buying Travel Insurance from a Comparison Website?
In short – the price of a trip insurance quote for an insurance plan that you see from AardvarkCompare is the same price you would see from the insurance carrier direct – we are not allowed to compete on price for 'filed' insurance products. No one is. You are certain to get the best value from us.
Safe travels.
Recent AardvarkCompare Travel Insurance Customer Reviews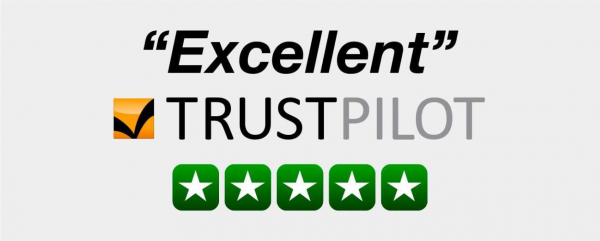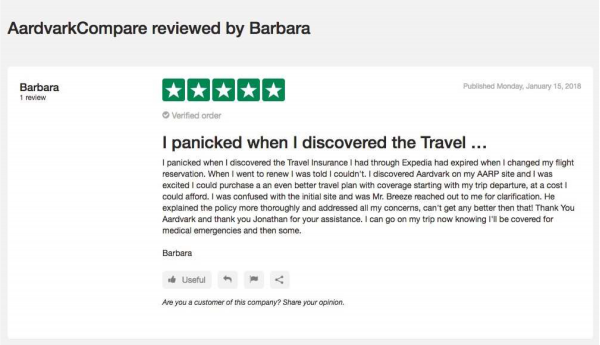 I Panicked When I Discovered
I panicked when I discovered the Travel Insurance I had through Expedia had expired when I changed my flight reservation.
When I went to renew I was told I couldn't.
I discovered Aardvark on my AARP site and I was excited I could purchase an even better travel plan with cover starting with my trip departure, at a cost I could afford.
I was confused with the initial site and Mr. Breeze reached out to me for clarification.
He explained the policy more thoroughly and addressed all my concerns, can't get any better than that!
Thank You Aardvark and thank you Jonathan for your assistance.
I can go on my trip now knowing I'll be covered for medical emergencies and then some. 
Barbara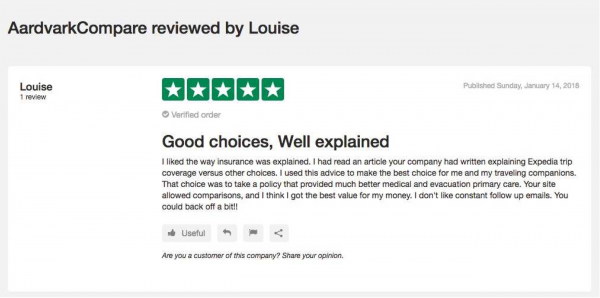 Good Choices, Well Explained
I liked the way insurance was explained. I had read an article your company had written explaining Expedia trip cover versus other choices.
I used this advice to make the best choice for me and my traveling companions. That choice was to take a policy that provided much better medical and evacuation primary care.
Your site allowed comparisons, and I think I got the best value for my money. I don't like constant follow up emails, though. You could back off a bit!!
Louise
---