Quick Quote - Click Here
Hurricane Season Vacations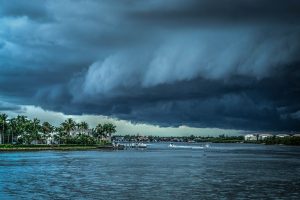 More and more people are choosing hurricane season vacations these days. Emboldened by sophisticated tracking and communication technologies, they take trips to the Caribbean and along the Atlantic Coast in relative safety.
Cheap airfare and hotel rates don't hurt either, as travel suppliers are quick to offer significant discounts in the late summer and early fall months. Travel experts and even the State Department are on board with the practice. They support the idea of traveling during hurricane season, provided you purchase the right travel insurance.
The Facts About Hurricane Season
In the Caribbean and the Atlantic Ocean, hurricane season officially extends from June 1st to November 30th, with peak times occurring from August to early October. Here is a list of the five countries most often hit during hurricane season.
China
Philippines
Japan
Mexico
United States
There are of course certain risks and inconveniences associated with travel during this period. Please bear these in mind when planning your trip.
The State Department Website is again a great source for these risks and how to prepare for them.
Traveling During Hurricane Season
Armed with knowledge of the risks and possible frustrations involved, you can continue to plan your vacation. Strangely enough, a cruise is a great idea for traveling during hurricane season. Their navigation and tech teams are trained to go around storms and avoid them altogether.  A cruise ship can travel out of the pathway of a hurricane if danger does arise.
The only drawback is that cruise ships sometimes have difficulty finding an open port during hurricane season. This can result in an inconvenient change in your schedule. But many travelers are delighted when the cruise line extends their vacation by a few days!
Other travel suppliers make their products more appealing by making certain allowances for travel during hurricane season. In addition to their typical discount rates, hotels and resorts in the Caribbean sometimes offer hurricane guarantees to their guests. Details can vary, though, so check with your hotel or resort directly to ask about their specific hurricane policies.
Some airlines make allowances as well. For instance, they might allow you to cancel a reservation if your flight occurs during an official hurricane watch. You might also be able to make free changes to your itinerary in an official hurricane scenario.
Travel Insurance During Hurricane Season
Flight changes, cancellations, and delays are very common during hurricane season. This makes travel insurance absolutely imperative. The ideal choice is a Comprehensive policy, and 'Cancel for Any Reason' travel insurance gives you flexibility and freedom from worry.
The timing of when you buy the policy is also important. This is because once the hurricane has been officially named, you will lose all hurricane-related benefits. So be sure to purchase travel insurance well in advance if your trip is during hurricane season. This will entitle you to the additional time-sensitive benefits included as standard in most Comprehensive policies.
The time-sensitive benefits you receive with a comprehensive policy will go a long way toward protecting your trip from the threat of hurricanes. They are also some of the best ways to eliminate the worry and stress of traveling during hurricane season.
If you've found your ideal vacation, why not try our free and super-easy-to-use travel insurance comparison tool at AardvarkCompare.com. We will provide you with quotes from many of the largest travel insurance providers here in the US, helping you find the very best plan at the best possible price.
Safe travels.
---