Quick Quote - Click Here
Medical Evacuation Travel Insurance
If you are considering Medical Evacuation Travel Insurance, you are thinking smart. The CDC tells us that the most common reasons travelers seek medical care abroad include cardiovascular events, gastrointestinal illness, respiratory distress, fever, or injury or trauma, among others. You will want to be treated at the best possible facility, and eventually be brought home.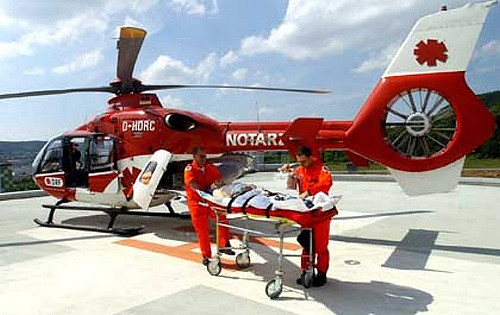 When you buy a Comprehensive Trip Insurance plan, medical evacuation cover ensures that if you suffer an accident or illness and require medical support, and there are no adequate treatment facilities nearby, you can be transported to the nearest appropriate facility, or be brought home if you need long-term follow-up care.
Medical Evacuation Travel Insurance Cover
Medical evacuation can be incredibly expensive. Even if it is just a question of placing you and a flight nurse in business class seats to get you home, the invoice will run into thousands. A small private jet to bring you a few hours home will run into tens of thousands of dollars. And a long-range jet to bring you from Asia, Latin America or Africa will run into hundreds of thousands of dollars. You do not want to be writing that check for yourself, or a family member.
Medical Evacuation Travel Insurance, incorporated into every Comprehensive Travel Insurance, is so inexpensive, that it makes sense to buy it.
But, it is important to check the small print if you buy a policy from a travel site like Expedia. When we look at Expedia coverage – there is only $15k in medical evacuation cover. That just isn't enough to get you safely home in the event of a traumatic injury requiring medical support. You will find much better cover at a significantly better price if you shop around. No more than 2 minutes is required.
Other Benefits Of Medical Evacuation Cover
Included when you buy medical evacuation travel insurance should be those medical services and supplies used during your transportation home. You will inevitably be escorted home by a Doctor or Nurse – the costs for your medical escort will be included within your cover. Also, expenses and escorts will typically be covered if needed to transport your dependent children back home. With such comprehensive cover provided, a medical evacuation travel insurance plan has to be considered when you evaluate your trip insurance needs. We consider it an essential element of cover. It is not expensive, and the companies that support our customers at AardvarkCompare are truly world-class when called upon in such circumstances.
As always, at AardvarkCompare we recommend that a traveler consider travel insurance. You can get an anonymous quote in seconds, and compare dozens of the top travel plans from many of the largest US travel insurers, saving you time and money finding the right travel plan for your needs.
What many people do not know is that they won't find the same trip insurance plans available at a better price – all down to price certainty anti-discriminatory law in the US.
Travel Insurance Comparison – Will I Pay More Buying Travel Insurance from a Comparison Website?
In short – a trip insurance quote for an insurance plan that you see from AardvarkCompare is the same price you would see from the insurance carrier direct – we are not allowed to compete on price for 'filed' insurance products. No one is. You are certain to get best value from us.
Safe travels.
Recent AardvarkCompare Travel Insurance Customer Reviews
I Panicked When I Discovered I panicked when I discovered the Travel Insurance I had through Expedia had expired when I changed my flight reservation. When I went to renew I was told I couldn't. I discovered Aardvark on my AARP site and I was excited I could purchase an even better travel plan with cover starting with my trip departure, at a cost I could afford. I was confused with the initial site and Mr. Breeze reached out to me for clarification. He explained the policy more thoroughly and addressed all my concerns, can't get any better than that! Thank You Aardvark and thank you Jonathan for your assistance. I can go on my trip now knowing I'll be covered for medical emergencies and then some. _ _Barbara
Good Choices, Well Explained I liked the way insurance was explained. I had read an article your company had written explaining Expedia trip cover versus other choices. I used this advice to make the best choice for me and my traveling companions. That choice was to take a policy that provided much better medical and evacuation primary care. Your site allowed comparisons, and I think I got the best value for my money. I don't like constant follow up emails, though. You could back off a bit!! Louise