Quick Quote - Click Here
State Department Mexico Travel Warning – August 2017
The State Department issues a Travel Warning in order to prompt citizens and residents to ask the question 'Do I really want to travel to this place?'
State Department Mexico Travel Warning – August 2017.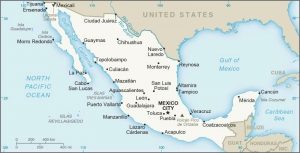 Warnings are generated by events such as a civil war, intense episodes of crime and violence, government instability, and frequent terrorist attacks.
Is this the sort of country I want to do business in, or take my family to?
Whilst many of us would not be surprised to see countries such as Iraq and Yemen on the list, it does come as a surprise to some that Mexico is there.
Some further reading is advised.
In Mexico, US citizens have been victims of kidnap, carjack, robbery, murder, and other violent crimes throughout the country.
The State Department breaks Mexico down into regions with varying levels of safety. There are parts of the country that US government personnel and their families have been forbidden from traveling to, such is the danger.
Drug wars, organized criminal gangs, and kidnapping are the primary threats.
The Mexican Government dedicates substantial resources to protect visitors to major tourist destinations.
The majority of the country has specific advisory information that a traveler should heed.
The areas that Do Not are:
Campeche
Guanajuato
Hidalgo
Mexico City
Puebla
Queretaro
Tabasco
Tiaxcala
Yucatan
Every other state has some degree of high caution.
As always, at AardvarkCompare we recommend that travelers consider travel insurance. You can get an anonymous quote in seconds, and compare dozens of the top travel plans from many of the largest US travel insurers, saving you time and money finding the right travel plan for your needs.
Irrespective as to whether a traveler takes trip insurance, we would recommend that you stay up-to-date with the State Department guidance that is offered. Do so, before you book, and then again before you travel. It takes only a few minutes.
Safe travels.
Sharing is caring!
---