Quick Quote - Click Here
Teen Travel Insurance
Teen Travel Insurance is probably the last thing that a young person will think of when they head off to Mexico for a week with friends.
Yet Teen Travel Insurance is something that all of them should be taking with them.
Parents and grandparents are understandably worried when their teenage children or grandchildren head off on foreign trips. Of course, we want our teenage travelers to enjoy themselves and experience new cultures. But, we would like the peace of mind to know that there was some form of protective bubble around them, should there be a truly unfortunate accident or incident.
When we think of our own teenage years, we may recall that we were fairly carefree, and felt that we were indestructible. Many of us look back on those years with a wry smile, and a shake of the head. So, whilst we wish to protect our teenage kids when they travel, we also want them to be able to adventure and grow as human beings. It is quite a conflict!
Teen Travel Insurance is never going to put a physical arm around them when they travel. But buying trip insurance for a teenage traveler can do an awful lot to reduce the costs of any accidents or misadventures they have.
Worked Example – Teen Travel Insurance
-pI2Z1h-KY
One of our most popular teen travel insurance plans is the iTravelInsured Travel Lite. It tends to be a very inexpensive travel insurance, and is particularly good value for younger travelers.
At AardvarkCompare we compared trip insurance for a 19-year-old traveler heading to Mexico for a week. Cost of trip is $500. Please note that it is not necessary for every member of a group of friends to buy travel insurance. If your teenager is traveling with a group, you can buy their own travel insurance for them. Sometimes this is a little easier than trying to corral everyone into the same insurance plan.
When we run a quote amongst our group of travel insurance carriers, we see a range of different plans available. Notice how inexpensive the trip insurance is.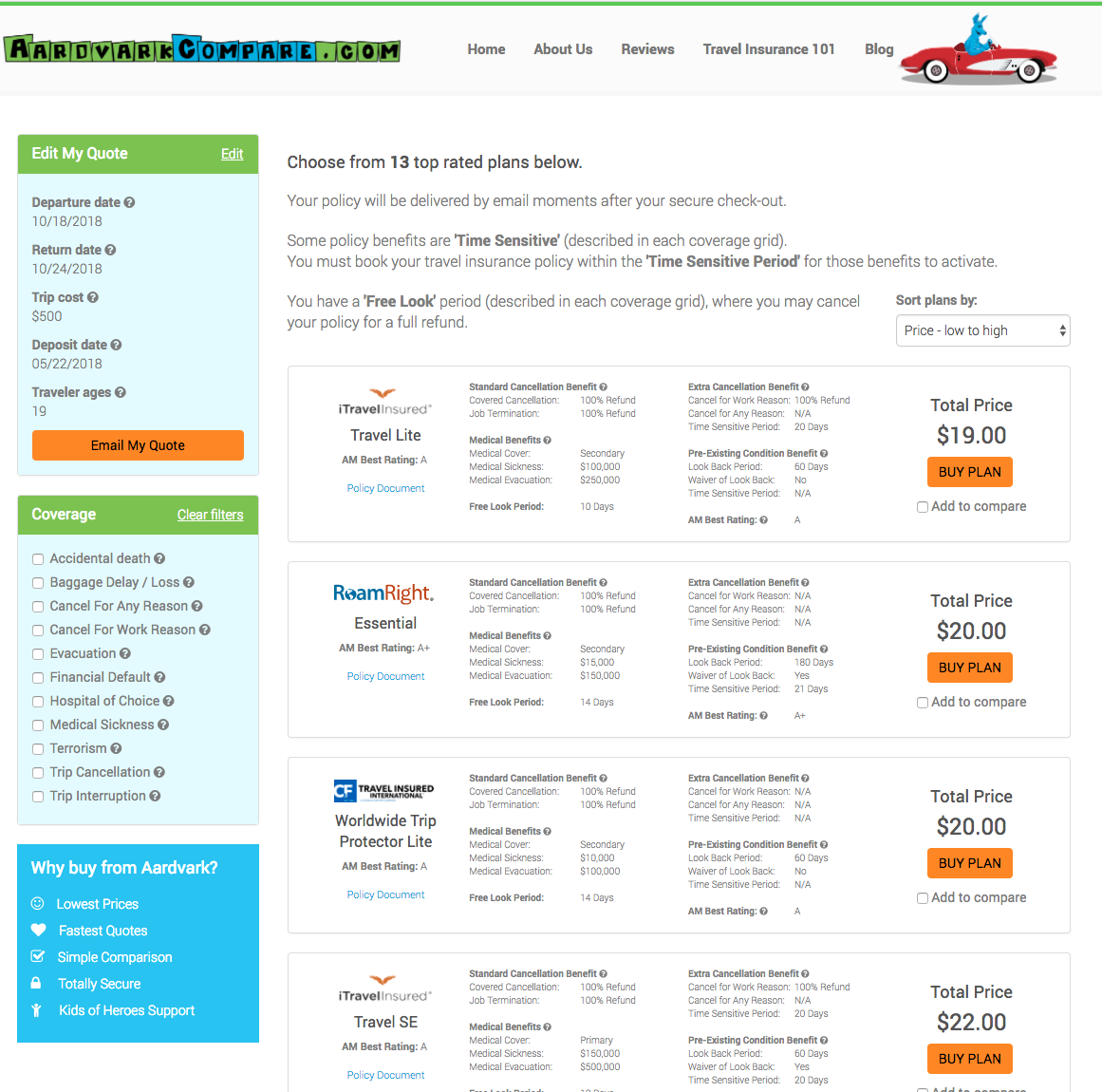 Why is Teen Travel Insurance so Cheap?
Teen Travel Insurance is not expensive. Younger travelers may do crazier things than their parents or grandparents, but they do not tend to get sick very often. If they do break a bone they tend to heal quickly at little cost. So, although you might think that teenage travel insurance will be costly, these travelers are the least expensive to insure.
Having compared travel insurance options, and looking at the iTI Travel Lite, we see a policy that costs only $19 for the week in Mexico.

Trip Cancellation Protection
As with all comprehensive trip insurance policies, trip cancellation protection is embedded into the iTI Travel Lite policy. It protects against the unlikely – a sickness or injury to the traveler that prevents travel, for example. This type of cover is often very important to older travelers, but less important to younger, healthier folks. However, it is included in every policy anyway.
Travel Medical Protection
Travel Medical Insurance is the part of any Teen Travel Insurance that parents will probably pay most attention to. The levels of cover are very important, particularly when heading overseas. Mexico is a firm favorite of younger travelers. We wrote an excellent travel insurance guide to Mexico, which is well worth a read.
Suffice to say, in the event of hospitalization or any other form of medical visit, the traveler will need to pay. The US State Department will not offer any form of financial assistance. Indeed, they and CDC are very clear about the importance of buying travel health insurance, and the fact that the financial obligation is on the traveler.
Private hospitals overseas can be incredibly expensive. $3k - $4k per day of medical costs can be expected. We have consistently recommended that a traveler heading overseas should take no less than $100k of travel medical insurance. Teen travel insurance should certainly have that level of medical cover in our opinion. It is not expensive, so take the cover, is our advice.
There are trip insurance policies with significantly less than $100k of medical insurance. Our advice is that these lower cover policies are best suited for those who are traveling within the US, as the traveler can rely upon their own home health insurance to support them within the USA. We rarely see US health insurance that offers cover overseas. So, please, if your teenage traveler is leaving the US, make sure that there is strong trip medical insurance in place.
Medical Evacuation Coverage
Powerful travel insurance should incorporate robust medical evacuation protection within the policy. In the event that a traveler needs to be taken to a hospital by ambulance or helicopter, this travel cover provides financial protection. It does the same if the patient needs to be airlifted back to the US on a private jet equipped with an on-board medical team. A travel medical evacuation can be incredibly expensive. Again, the US State Department will not provide financial support. We recommend no less than $100k of Medical Evacuation cover on any policy for overseas travel. If the traveler is heading into a more remote part of the world, then $250k of travel medical evacuation cover is a better level of protection to buy.
Our iTI Travel Lite plan provides $250k of evacuation protection – this is highly robust cover.
Pre-Existing Medical Condition Exclusion Waiver
Most teen travelers will not need a Pre-Existing Medical Condition Exclusion Waiver. But for others, it can be worth looking at.
Recent accidents, injuries or medical conditions would normally be excluded from cover with any travel insurance. 'Recent' will differ between policies, but the best travel insurance policies only 'Look Back' 60 days.
Stable medical conditions that are older than this are covered under the travel insurance anyway.
However, if your teen traveler has had a more recent medical condition, this would normally be excluded from trip insurance cover. We solve this problem by buying teen travel insurance that incorporates a Pre-Existing Medical Condition Exclusion Waiver.
A Medical Waiver will bring the medical condition back into cover on the policy.
All that needs to be done is to ensure that a trip protection policy is bought that: a) includes a Medical Waiver, and b) is bought promptly after any initial trip payment is made – normally within 2-3 weeks.
Trip protection plans that include a Medical Waiver are not expensive for teenage travelers.
By way of example, look at the iTravelInsured Travel SE. For the same Mexico trip as we have been reviewing, it is only a $22 policy.

Medical Cover is $150k
Evacuation Cover is $500k
The policy includes a Medical Waiver
So, if the teen traveler has had a recent medical condition, there will be travel policies available that will offer medical protection. Just make sure to buy the trip policy quickly after you first make a trip payment.
Other Teen Travel Insurance Benefits
You will typically see travel cover that provides compensation due to travel delays, so as to help cover the cost of food, accommodation etc.
The iTI Travel Lite plan provides for $125 per day, after an initial delay of 12 hours.
Baggage and personal effects are insured, up to $750. Do remember to always file a police report – this will be important in the event of any claim.
Also, there will be a limit, per article, of $250. Items such as cash, jewelry and sunglasses are not covered.
So, do think about what the teenage traveler takes with them – if the expensive laptop can be left at home, then this is probably a good idea. Slightly more expensive policies, such as the iTI Travel SE, will provide more travel baggage protection - $1,500 is covered within that particular policy.
Cancel for Any Reason Travel Insurance
Most travel insurance policies will only pay cancellation benefits due to serious illness or injury. Others will pay in the event of a redundancy.
But those that allow you to 'Cancel for Any Reason' must be bought within 20 days of your flight purchase or initial trip deposit. You need to insure all of your non-refundable trip costs. In the event of travel cancellation, if using the Cancel for Any Reason benefit, you would need to cancel with at least 48 hours' notice. You would then receive 75% of your non-refundable trip costs back.
For low-cost trips, with younger travelers, the additional cost of such a Cancel for Any Reason travel policy is small.
Staying with the same quote, we would look to buy trip insurance from iTravelInsured again, and use the iTI Travel LX plan. It is priced at only $28 for our particular traveler.

Medical Cover increases to $500k, and Evacuation Cover to $1m. But, the main differentiator in cover is the Cancel for Any Reason cover.
Teen Travel Insurance - Conclusion
Teen Travel Insurance need not be expensive. It can provide essential protection for younger travelers as they head overseas. The teen traveler does not need to buy the trip insurance policy themselves. Any friend or family member can do so.
Safe travels.
Recent AardvarkCompare Travel Insurance Customer Reviews
I Panicked When I Discovered I panicked when I discovered the Travel Insurance I had through Expedia had expired when I changed my flight reservation. When I went to renew I was told I couldn't. I discovered Aardvark on my AARP site and I was excited I could purchase an even better travel plan with cover starting with my trip departure, at a cost I could afford. I was confused with the initial site and Mr. Breeze reached out to me for clarification. He explained the policy more thoroughly and addressed all my concerns, can't get any better than that! Thank You Aardvark and thank you Jonathan for your assistance. I can go on my trip now knowing I'll be covered for medical emergencies and then some. _ _Barbara
Good Choices, Well Explained I liked the way insurance was explained. I had read an article your company had written explaining Expedia trip cover versus other choices. I used this advice to make the best choice for me and my traveling companions. That choice was to take a policy that provided much better medical and evacuation primary care. Your site allowed comparisons, and I think I got the best value for my money. I don't like constant follow up emails, though. You could back off a bit!! Louise