Quick Quote - Click Here
Top Ten Tips To Stay Healthy On A Cruise – Part 1
Top Ten Tips To Stay Healthy On A Cruise – Part 1
Every year over 20 million people go on a cruise vacation, with a staggering 60% originating in North America.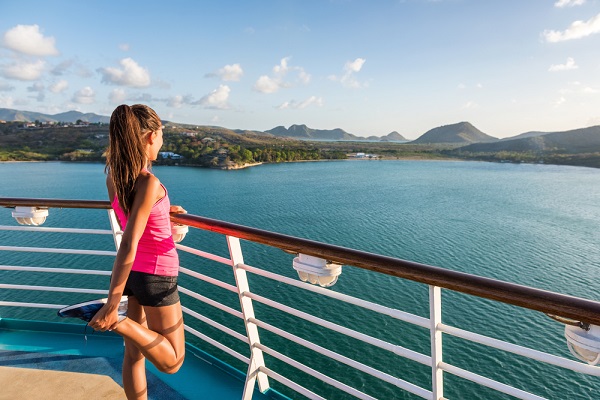 That's an impressive number. That is a lot of sail-away parties!
Most travelers have a fantastic vacation and stay healthy and happy for their cruise trip. However, as soon as we break our normal routine, our bodies do sometimes become a little more susceptible to illness. This could be anything from tummy troubles or head colds, to seasickness or jet lag.
But don't let this put you off. If you follow our Top Ten Tips, we're sure you will have a thoroughly enjoyable and completely safe cruise.
Healthy Cruise Tip One - Always Wash Your Hands
The best way to avoid getting sick with a tummy bug like Norovirus is to thoroughly wash your hands. Not just once or twice a day, but pretty much constantly. So, before and after you eat something, after you have been to the restroom. When you return to the ship after a day in port and whenever you touch something like a stairway handrail or any surface that could hold germs.
This might sound like an awful lot of hand washing. Well, to save you spending your entire vacation running backwards and forwards to your cabin to wash your hands, we would suggest you take a pocket hand sanitizer with you and use it frequently. Whilst not a substitute for good hand washing hygiene, it will certainly help kill any germs that may be lurking.
However, using a public restroom does raise an issue many people think about but don't often discuss. How to exit a restroom without having to touch the door handle? Don't worry, if you're one of those people who stay longer under the hand drier waiting for someone else to come in so that you can squeeze out without having to touch the door handle, you're not alone. We all do it!
Rest assured, most cruise lines are ahead of us here. Many have signs in restrooms to actually ask passengers to exit the restroom using a paper tissue to open the door. They also provide a trash-can on the other side of the door to discard your tissue.
Healthy Cruise Tip Two – Stay Hydrated
Staying hydrated is a great way to stay healthy. Most health professionals will suggest we should drink around half a gallon of water every day.
Using a refillable water bottle is a great way to track how much water you are consuming. Make sure you wash it out thoroughly on a regular basis. Remember that your water requirements may increase if you are on vacation in a hotter climate than you are used to.
Also remember that alcohol can dehydrate you. So, if you plan to enjoy the numerous on-board bars on your cruise ship, make sure you swap out your beer or cocktail for a glass of water every now and then.
Healthy Cruise Tip Three – Bottled Is Best And Hold The Ice
Many cruise destinations have tap water that is perfectly acceptable for drinking, but there are those that do not. When you are on port excursions, the safest thing is to order bottled water rather than drinking the local tap water. And this goes for ice cubes as well. Most restaurants on shore will probably buy in bags of ice cubes which have been made with mineral water. However, some may still use ice-making machines which use the local water supply to make ice. You also don't know how clean their ice-making machine actually is.
This does also mean that fresh fruit and uncooked vegetables should be avoided, as they have probably been rinsed under the tap.
Healthy Cruise Tip Four – Jet Lag
Jet lag can be a real pain, and some people suffer with it more than others. If you know you suffer from jet lag, it may be an idea to arrive at your embarkation destination a day or two before your cruise departs. This way you can get over the jet lag without missing any of your cruise holiday.
Other tricks of the trade to avoid or reduce the effects of jet lag include taking a nap on your first day so you can try and stay up until it is a reasonable bedtime. Or, eating the meal for the time zone you are in, rather than the one your body expects, so if you land in Miami in the morning but your body thinks it is evening, have breakfast.
Healthy Cruise Tip Five – Slip Slop Slap
Getting sunburned is not fun. We've all done it and it hurts. Many people don't realize that it is just as easy to get sunburned whilst walking the streets of Europe as it is cruising the Norwegian Fjords or laying out on the Lido Deck on a sun lounger.
The best rule for sun protection is to take a tip from our Australian friends who teach their kids from an early age to Slip Slop Slap.
Slip on a shirt, Slop on some sun screen (preferably factor 30 or above) and Slap on a hat.
The second part of our Top Ten Tips for a Healthy Cruise will follow.
And if you're heading off for a cruise vacation, please remember to pack travel insurance, as you never know when you might need it. At AardvarkCompare you can get an anonymous quote in seconds, and compare dozens of the top travel plans from many of the largest US travel insurers, saving you time and money finding the right travel plan for your needs.
A healthy cruise is a happy cruise.
Safe travels.
Recent AardvarkCompare Travel Insurance Customer Reviews
I Panicked When I Discovered I panicked when I discovered the Travel Insurance I had through Expedia had expired when I changed my flight reservation. When I went to renew I was told I couldn't. I discovered Aardvark on my AARP site and I was excited I could purchase an even better travel plan with cover starting with my trip departure, at a cost I could afford. I was confused with the initial site and Mr. Breeze reached out to me for clarification. He explained the policy more thoroughly and addressed all my concerns, can't get any better than that! Thank You Aardvark and thank you Jonathan for your assistance. I can go on my trip now knowing I'll be covered for medical emergencies and then some. _ _Barbara
Good Choices, Well Explained I liked the way insurance was explained. I had read an article your company had written explaining Expedia trip cover versus other choices. I used this advice to make the best choice for me and my traveling companions. That choice was to take a policy that provided much better medical and evacuation primary care. Your site allowed comparisons, and I think I got the best value for my money. I don't like constant follow up emails, though. You could back off a bit!! Louise