Quick Quote - Click Here
When Should I Buy Travel Insurance?
You have started to look for cover for your upcoming trip. So, when should you buy Travel Insurance?
If you are going to buy it, and it is just a question of when, buy it sooner rather than later.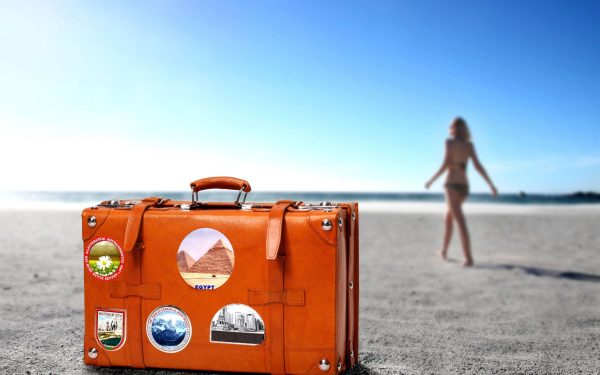 Standard Trip Insurance policies can be purchased up until the day before your departure. Be warned that some time-sensitive benefits included in Trip Cancellation policies must be purchased within 14-30 days of your initial booking date. This is normally the date you first paid out towards your trip.
You will want to ensure you get the most out of your trip insurance plan. We always recommend that you purchase a plan as soon as you have paid out towards your trip. Remember, if you have yet to finalize your trip plans, don't worry. You will be able to call your travel insurance provider and add on other parts of your trip as you book them.
When Should I Buy Travel Insurance? Cover Early for Maximum Benefit
The sooner you purchase a policy, the sooner the cancellation cover within the policy can begin to protect you.
Also, some benefits, like Pre-Existing Condition and Cancel For Any Reason cover, are also time-sensitive benefits. They require the policy to be purchased within a prescribed number of days following your initial trip deposit date. Normally between 14 and 30 days. This information can vary based on the travel insurance policy you choose, so please check the policy carefully.
As always, at AardvarkCompare we recommend that travelers consider travel insurance. You can get an anonymous quote in seconds, and compare dozens of the top travel plans from many of the largest US travel insurers, saving you time and money finding the right travel plan for your needs.
What many people do not know is that they won't find the same trip insurance plans available at a better price – all down to price certainty anti-discriminatory law in the US.
In short – a trip insurance quote for an insurance plan that you see from AardvarkCompare is the same price you would see from the insurance carrier direct. We cannot compete on price for 'filed' insurance products. No one can. You are certain to get best value from us.
Safe travels.
Recent AardvarkCompare Travel Insurance Customer Reviews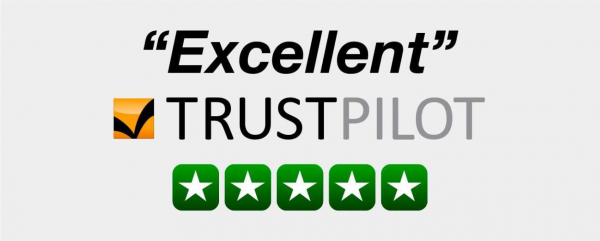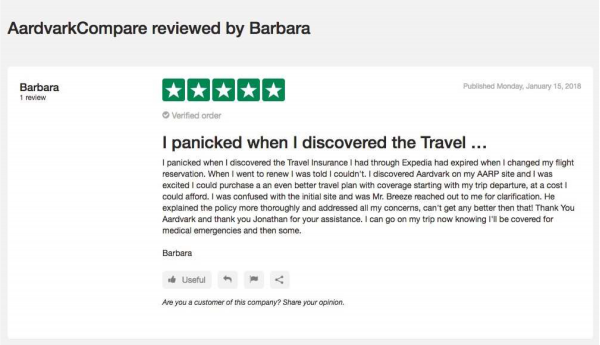 I Panicked When I Discovered
I panicked when I discovered the Travel Insurance I had through Expedia had expired when I changed my flight reservation.
When I went to renew I was told I couldn't.
I discovered Aardvark on my AARP site and I was excited I could purchase an even better travel plan with cover starting with my trip departure, at a cost I could afford.
I was confused with the initial site and Mr. Breeze reached out to me for clarification.
He explained the policy more thoroughly and addressed all my concerns, can't get any better than that!
Thank You Aardvark and thank you Jonathan for your assistance.
I can go on my trip now knowing I'll be covered for medical emergencies and then some. 
Barbara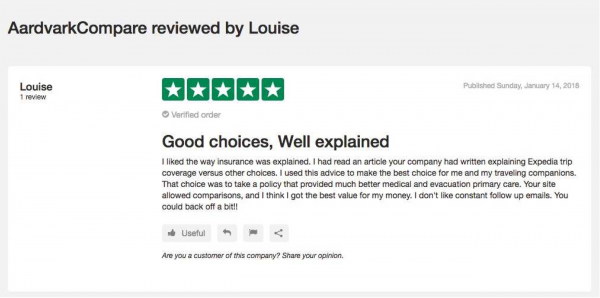 Good Choices, Well Explained
I liked the way insurance was explained. I had read an article your company had written explaining Expedia trip cover versus other choices.
I used this advice to make the best choice for me and my traveling companions. That choice was to take a policy that provided much better medical and evacuation primary care.
Your site allowed comparisons, and I think I got the best value for my money. I don't like constant follow up emails, though. You could back off a bit!!
Louise
---