Quick Quote - Click Here
VRBO Travel Insurance - 2020 Review
VBRO Travel Insurance Review
Strengths
Reputable Insurance Partner
Cost not based on age
Weaknesses
Poor medical insurance
Shared medical evacuation benefit
High cost
Introduction
VRBO.com (aka Vacation Rental by Owner) specializes in vacation property rentals of all types: houses, apartments, condos, villas, etc. Unlike AirBNB, VRBO requires listing entire units rather than rooms.
They also encourage customers to purchase travel insurance. Although many travel suppliers offer a single "take it or leave it" travel insurance option, VRBO gives you the option of 3 levels of trip insurance coverage: Essential, Enhanced or Elite.
In this review, we only cover the Elite plan because it includes all the benefits you expect to see in a comprehensive travel insurance policy.
Worth noting, VRBO also offers a damage protection plan that is separate from travel insurance. It can protect you from personal liability if you accidentally damage the property you rent. Travel insurance does not cover liability since it's not a standard travel hazard.
Quality travel insurance policies include:
VRBO Travel Insurance
For this review, our sample couple are ages 55 and 60 and they booked a beach rental in Cancun, Mexico during the week of July 4th.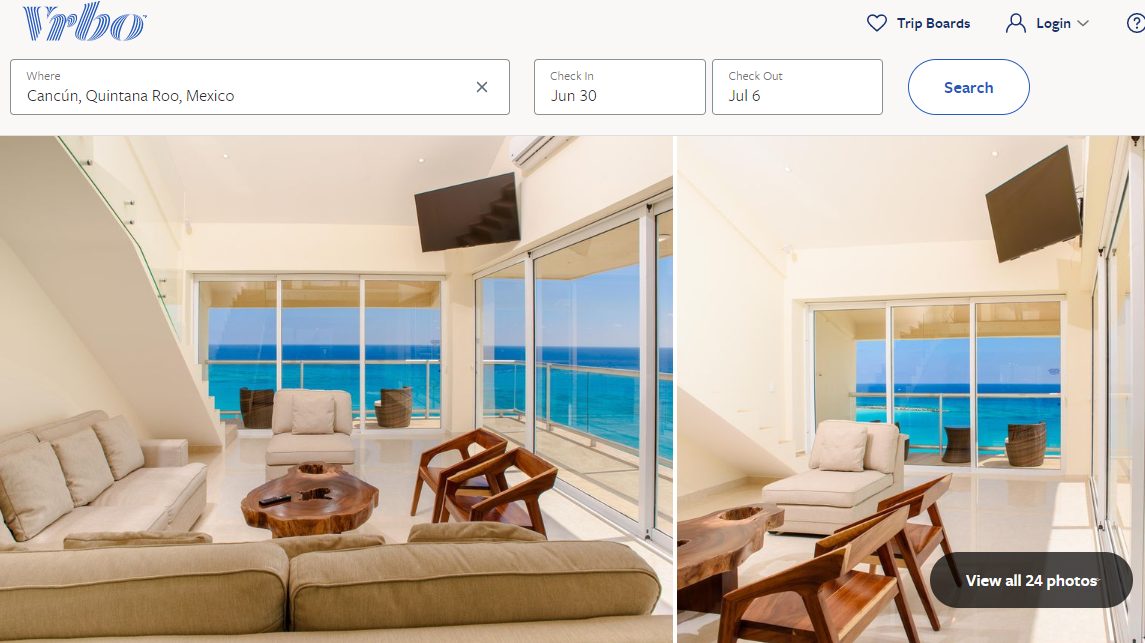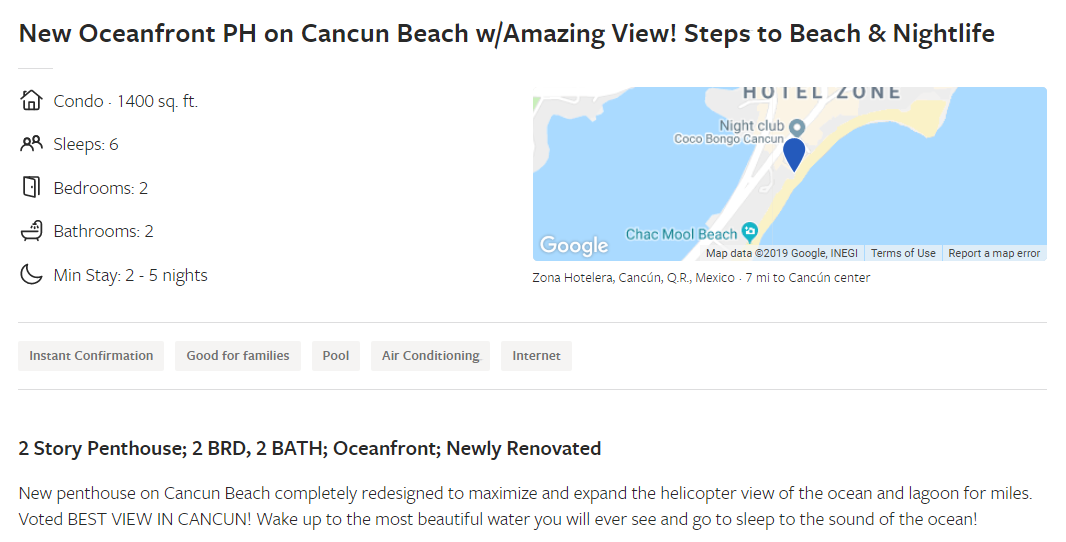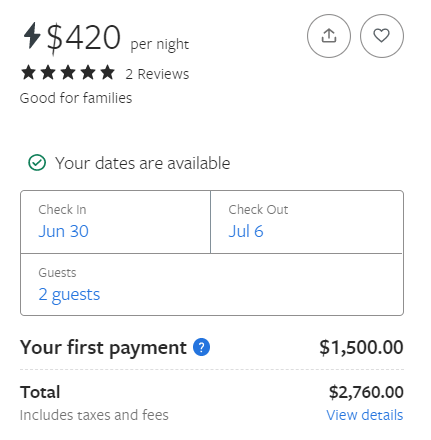 Isn't it lovely? Our retired couple thought so, and they're very excited to spend a week at the beach in this luxurious condo.
Since this is a peak travel week, the cost of the rental is $2,760. The couple also paid $740 for non-refundable airfare in case of cancellation. The total trip cost they will insure is $3,500.
If they insure the condo rental and airfare through VRBO travel insurance, the cost is $262.50. Is this a good value? Let's find out.
Here is the offer from VRBO's travel insurance page: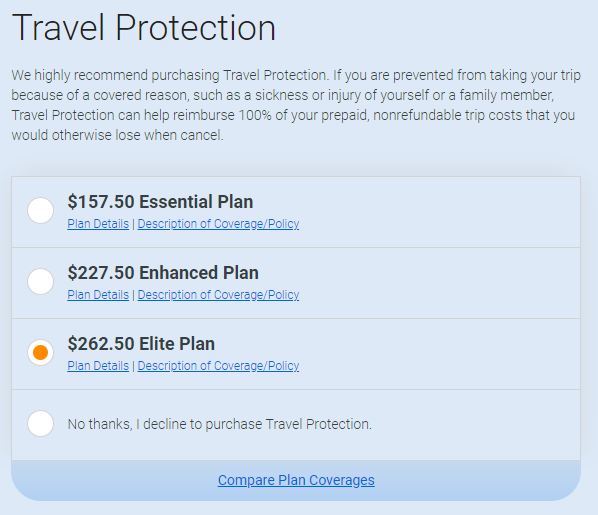 What do you get for the price?
The following table compares VRBO Elite travel plan to Travel Insured International Worldwide Trip Protector and Worldwide Trip Protector Plus, both available at AardvarkCompare.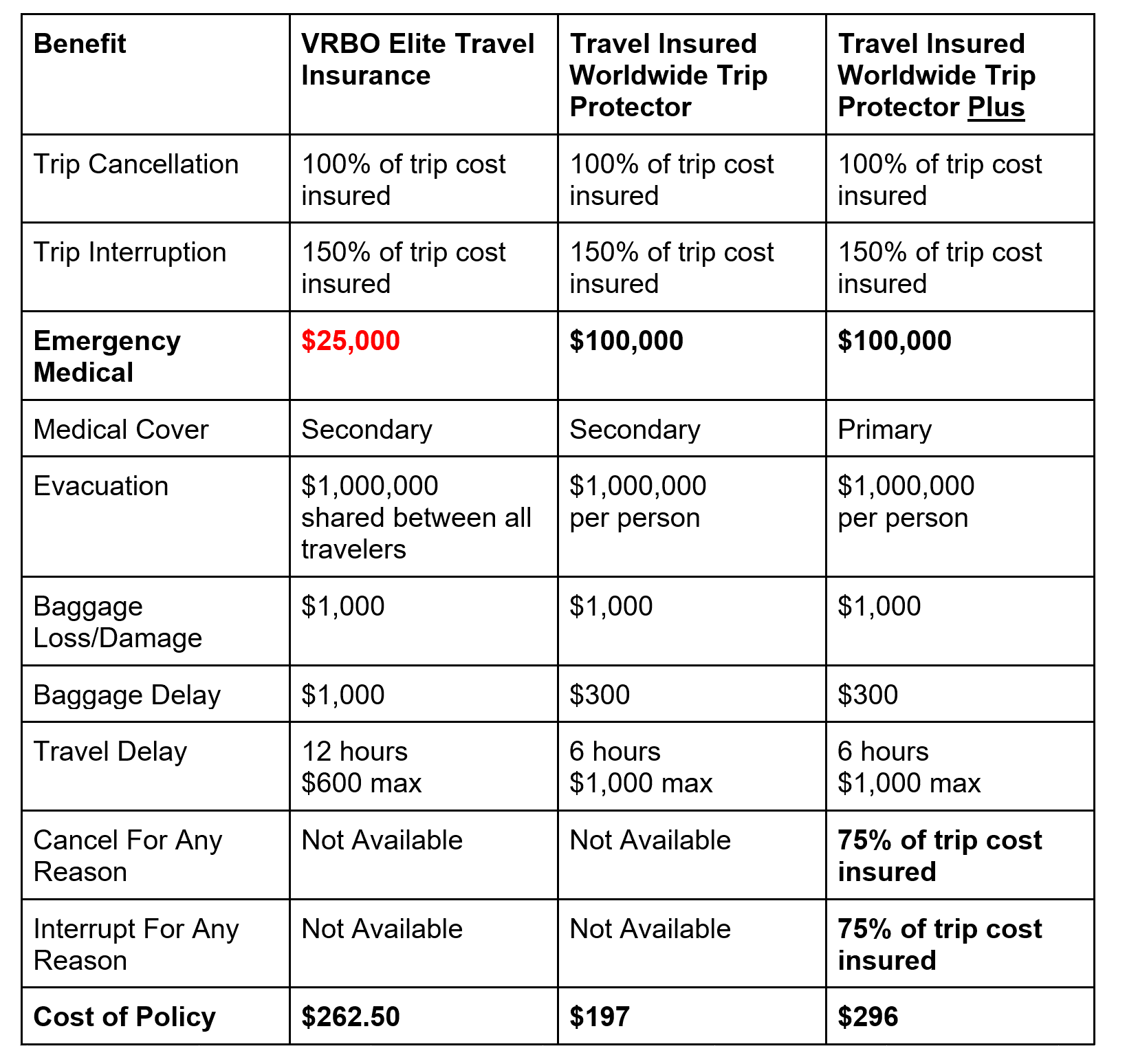 Price
In this case, our travelers save 25% on travel insurance by working with AardvarkCompare and enrolling in the Worldwide Trip Protector.
Not only do they save money, but they also get a much lower price for nearly identical coverage.
Best of all, they get higher medical insurance, and more generous medical evacuation coverage.
For a bit more money, the traveler can protect their trip with Cancel For Any Reason through the Worldwide Trip Protector Plus policy. It allows cancellation with a refund for any reason not listed in the policy.
As you can see, seniors get more value by shopping around.
Trip Cancellation
Most VRBO vacationers are interested in trip cancellation. Since many rental reservations require non-refundable deposits and full payments, renters face a potentially large loss.
In the event they must cancel, travel insurance cancellation benefits can refund up to 100% trip cost.
Frequently, travelers must cancel due to an unexpected illness, accidental injury or death of a traveler, travelling companion or non-traveling family member.
Every travel insurance policy covers cancellation, but that doesn't make all plans equal. Travel insurance plans differ based on the reasons permitted for cancellation.
The more reasons for cancellation the better. VRBO Elite travel insurance offers 21 reasons for cancellation. Here are a few of the most common:
Sickness, Injury or death of you, your Family Member, your Traveling Companion or your Service Animal
Inclement weather
Traffic accident en route to destination
Hijacking, quarantine, jury duty, subpoena
Your home uninhabitable by fire, flood or natural disaster
Involuntary layoff from work
VRBO Elite has a respectable list of cancellation reasons. Most cruise line and travel agency travel insurance policies have only 5-6 cancellation reasons.
One thing we like about this policy is that it recognizes the illness, injury or death of a service animal as a cancellation reason. We commend VRBO for offering that option.
However, it's not the most comprehensive cancellation coverage on the market. One of AardvarkCompare's most popular plans, Travel Insured Worldwide Trip Protector, boasts a list of 24 cancellation reasons -- one of the best in the US.
Hurricane & Weather-Related Cancellation
Travel insurance from VRBO.com offers few weather-related protections:
Destination uninhabitable by fire, flood or natural disaster
Mandatory evacuation
Weather closes roads for 6 or more hours
Water, electric, sewage or gas service at destination shut off
On the other hand, Worldwide Trip Protector specifically covers hurricanes as a cancellation reason if:
Your trip destination is under a hurricane warning issued by the NOAA National Hurricane Center
Cancel less than 48 hours to departure date
The policy has been in force at least 14 days before cancellation
In addition, Worldwide Trip Protector covers events like:
Inclement weather
Traffic accident en route to destination
Destination uninhabitable by fire, flood or natural disaster
Mandatory evacuation
Delay causing 50% or more loss of trip duration
Non-Medical Emergency Evacuation
Occasionally, travelers need evacuation from an environmental situation, such as:
Natural disaster
Political unrest
Expulsion by a foreign government
In the event a hurricane (natural disaster) hit the Cancun beach house rental while our travelers were there, they could use this benefit to get to a place of safety.  (Not available in all travel insurance products.
Unfortunately, VRBO travel insurance does not offer this benefit. 
Trip Interruption
You will be thankful for trip interruption if you are on vacation and get a call that a family member back home suddenly passed away.
Trip interruption would refund up to 150% of your trip cost because this is a covered interruption reason. VRBO travel insurance will reimburse you for the unused portion of the trip you lose in addition to the added cost of cutting your trip short.
You might also need trip interruption if you had a medical emergency while on vacation and didn't get to enjoy the rest of your stay as expected.
Worldwide Trip Protector insurance also has 150% refund for trip interruption coverage, but with a more generous list of interruption reasons.
Travel Delay
On occasion, travelers are bogged down by weather or an airline delay layover that makes them late or miss their scheduled activity.
In the event our example couple had a flight that was delayed by a bad thunderstorm for 12 hours or more, they could enjoy the travel delay benefits of a meal, hotel and taxi reimbursement. Even though they arrived at their Cancun rental a day late, they were able to stay in comfort overnight during their layover.
In addition, if a travel delay causes the interruption of a portion of the trip, the travelers would be reimbursed for the unused day of the Cancun rental.
Similarly, the Worldwide Trip Protector travel insurance plan pays travel delay benefits after only 6 hours, rather than 12 hours.
Medical Insurance
Suppose one of our travelers accidentally stepped on a sharp piece of coral in the water, requiring medical treatment.
Turned out the cut was infected by bacteria in the water and required IV antibiotics and surgery to remove necrotic tissue. As a result, they lost out on several days of their vacation rental.
Four days in the hospital cost $25,000 and surgery cost $80,000. Although the couple's health insurance paid for a portion of the treatment, it did not cover all of it because the treatment was outside the US.
They still had a $75,000 bill.
The couple was devastated to discover their VRBO travel insurance plan only covered $25,000 of their remaining medical bills. Afterward, they returned home $50,000 in debt.
AardvarkCompare urges travelers leaving the US to secure at least $100,000 of travel medical insurance to cover unforeseen medical emergencies. Inpatient care typically costs $3,000-$4,000 per night outside the US, and Medicare doesn't cover that. Moreover, the US State Department will not pay for any foreign medical care for citizens.
If our travelers opted for the Worldwide Trip Protector policy available at AardvarkCompare, the policy would have paid all of their outstanding medical bills up to $100,000, so they can return home debt-free.
Conversely, the VRBO travel policy is gravely deficient in medical insurance. It cost our senior travelers tens of thousands of dollars, when a similar policy available at AardvarkCompare for lower cost would have saved the day.
Medical Insurance in the US
Although travelers in the US may think they don't need additional medical insurance, we urge you not to underestimate the value of travel medical insurance.
Most health insurance requires out-of-pocket expenses such as deductibles and copays. If you're out of network while traveling, you may face an 80/20 coinsurance where you end up paying 20% of all costs.
Out-of-pocket medical costs can burn through your personal and retirement savings like a forest fire. This difference can literally be the threshold between bankruptcy or a comfortable retirement.
Travel insurance helps fill those out-of-pocket gaps.
Both the VRBO Elite travel plan and the Worldwide Trip Protector travel insurance offer medical benefits. The VRBO insurance is limited to only $25,000, while the Worldwide Trip Protector covers you for $100,000 additional medical.
Given the lower cost of the Worldwide Trip Protector compared to VRBO Elite plan, you can see how easy it is to find better rates with more benefits. When you shop for travel insurance through a marketplace like AardvarkCompare, you will always find the best deal.
Pre-existing Medical Conditions
Since the most common reason for cancellation is due to the health of a traveler, it's important your travel insurance policy cover Pre-existing Medical Conditions. If it does not cover them and you must cancel due to a health reason, the insurance company may deny a claim for cancellation or medical treatment due to a Pre-Existing Condition.
Fortunately, many policies offer a Waiver that includes Pre-existing Conditions in the policy. To be eligible, you must:
Purchase the policy within 14-21 days of your initial trip deposit/payment
Cover 100% of prepaid, non-refundable trip costs
Be medically fit to travel on date of insurance purchase
If you sought or were recommended to have treatment or testing, or medication changes in the past 60-180 days, you have a Pre-existing Medical Condition. In that case, we recommend you get a policy with a Waiver of Look Back so all health conditions will be covered by the policy.
The VRBO travel insurance plan will cover pre-existing conditions if the traveler purchases the policy within 24 hours of final trip payment.
Medical Evacuation
If our travelers suffered a major trauma or critical illness like heart attack or stroke, Emergency Medical Evacuation is a crucial benefit that saves lives.
Provided the Cancun hospital didn't have appropriate resources to treat the illness or injury, the insured must be evacuated to the next closest hospital for proper treatment. In some cases, this could be a simple ambulance ride down the road.
In other cases, medical evacuation may be to another country. An air ambulance equipped with ICU machines and monitors, as well as a medical team, may cost $15,000 to $25,000 per hour. In this case, our traveler required treatment that was available in Miami. The trip insurance policy paid for our traveler's medical evacuation to the Miami hospital, then back home.
Although VRBO Elite travel insurance covers up to $1 million of Emergency Medical Evacuation benefits, the policy splits that amount among all travelers, rather than per person. Shared limits are unusual and not the standard for travel insurance.
By comparison, the Worldwide Trip Protector travel insurance provides $1 million per person for Emergency Medical Evacuation.
Cancel For Any Reason
The VRBO travel insurance policy does not permit cancellation unless it's a reason listed in their policy.
Travelers who want the flexibility to cancel a vacation rental if it's going to rain the entire week, or their dog is sick and don't want to leave her alone, there is Cancel For Any Reason.
Worldwide Trip Protector Plus permits Cancel For Any Reason if the traveler purchases the policy within 21 days of initial trip payment and covers 100% of the prepaid, non-refundable trip costs. When the travelers claim Cancel For Any Reason more than 48 hours before the trip start date, they receive a cash refund of 75% of trip costs.
Note the cost of a policy with Cancel For Any Reason is nearly the same price as the VRBO Elite travel plan without Cancel For Any Reason. You will always find the best value on travel policies at AardvarkCompare Travel Insurance Marketplace.
Conclusion
Overall, the VRBO Elite travel insurance plan is acceptable. Although the medical insurance coverage is much lower than we'd recommend for anyone traveling outside the US, the emergency medical evacuation benefit is good if only one person needs to use it.
Unlike many other travel organizations that offer their own private label travel insurance, VRBO's policy allows you to cover more than just the booking through VRBO. They cover total trip cost, including transportation to and from the rental.
However, like many others, VRBO travel insurance is low in medical benefits and high in cost. In other words, it's not a good value for seniors.
We also believe the cost is much higher than a traveler should pay for an identical policy. AardvarkCompare offers comparable policies with the same generous cancellation benefits and higher medical insurance at lower cost. We also offer Cancel For Any Reason policies, which VRBO travel insurance does not offer.
Get a Quote
When you shop AardvarkCompare travel insurance marketplace, you can compare quotes and policies from dozens of the nation's top-rated travel insurance carriers.
We offer seniors the best travel insurance value for their money.
Speak with one of our licensed travel insurance experts at no charge.   We will answer your questions and give reliable advice on the best travel insurance plan for your trip.
Call us at 650-492-6298, email us or chat with a live travel insurance expert.
Safe Travels!
Recent AardvarkCompare Travel Insurance Customer Reviews